"Iyengar Yoga" Is Trademarked in the U.S.
Here is What This Means to You
In accordance with his lifetime contribution to the art, science, and philosophy of yoga, B.K.S. Iyengar has pursued trademark protection so that yoga associated with his name is taught only by a Certified Iyengar Yoga Teacher (CIYT) and thus reflects his work. As of August 14, 2007 the name "Iyengar" associated with yoga has been registered as a trademark and is protected in the United States in connection with Iyengar Yoga taught solely by CIYTs.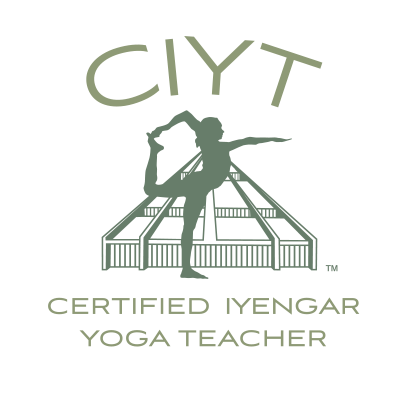 Only CIYTs in good standing are permitted to use "Iyengar Yoga" to describe their yoga programs or classes. The term "in good standing" as employed by B.K.S. Iyengar means that the certified teacher:
teaches in the method set forth by B.K.S. Iyengar, without mixing methods
pays annual dues to their association and pays the annual Certification Mark fee
receives continuing education from RIMYI or from an Intermediate or Advanced Iyengar teacher or teachers
is mindful of the Ethical Guidelines laid out by B.K.S. Iyengar and has signed the annual Certification Mark/ethics agreement
Only after Level 1 assessment is passed is a teacher considered a CIYT and only then can their classes be identified as Iyengar Yoga classes.
Attending Iyengar teacher training workshops or programs does not in itself provide certification to teach Iyengar Yoga or to use the name Iyengar. Only by attending and passing the IYNAUS Level 1 Assessment does a teacher qualify as a CIYT.
Non-certified teachers may not use or advertise the terms "Iyengar Yoga," "Iyengar style," or "Iyengar influenced," or similar language that could imply that they are certified or qualified to teach Iyengar Yoga in classes, teacher trainings, workshops, and the like. They may not use the name Iyengar in any form of business communication or advertising, or for any financial gain. They may, however, indicate that they have taken classes with Iyengar Yoga teachers, and while teaching they may on occasion acknowledge that a certain way of teaching is drawn from the Iyengar method.
As part of observing the second Yama, Satya (truthfulness), non-certified teachers or certified teachers who are not in good standing should not lead students to believe that they are being taught by a CIYT in good standing. Additional information regarding the appropriate use of Mr. Iyengar's name is available in the IYNAUS Certification Manual. The Iyengar Yoga community welcomes all teachers to participate in our certification process. In this way, they may earn the right to say that they teach Iyengar Yoga and assume the responsibilities that go with that privilege.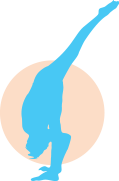 Infractions of The Trademark
There have been concerns within our community regarding non-certified teachers who have stated or advertised that they teach Iyengar Yoga. CIYTs find it disappointing when those who have not followed the certification path and the years of training outlined by B.K.S. Iyengar, claim authority to teach a subject that they hold dear.
The trademark was applied for at the request of B.K.S. Iyengar and is maintained by IYNAUS to protect the teachings of Mr. Iyengar and the professional integrity of CIYTs. It represents years of study, practice and strict dedication to the Iyengar method.
How Can You Help Ensure Proper Use of "Iyengar Yoga"?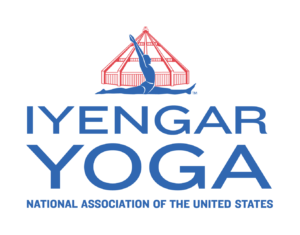 While IYNAUS is a national association, it has no oversight duties for the U.S. yoga community. In other words, IYNAUS, a primarily volunteer organization, does not have the capacity to police the use of the term "Iyengar Yoga". This trademark was obtained for the benefit of our individual teachers. If you encounter or hear about a non-certified teacher using the term "Iyengar Yoga" in self-promotion, we are counting on you to help rectify the situation.
Most misuses of "Iyengar Yoga" can be resolved locally. In many cases, a CIYT can contact the person who has misstated their qualifications and inform them about the trademark, the years of study and training required to earn the privilege of using the Iyengar name, and how to become certified, if they are interested. Informing this person that it is Mr. Iyengar's request that only CIYTs use his name will bolster the case.
However, if this suggestion is uncomfortable for you, please send a link to the website at issue or other evidence of the violation in an email to ethics@iynaus.org. Your message will be sent to the Ethics Committee Chair and to the Trademark Committee Chair. The Ethics Committee Chair will let you know what action is taken.
If the infraction continues despite diplomatic efforts to correct it, please re-contact IYNAUS again, and further action will be initiated.
We hope this clarifies your questions and helps you in protecting your certification and right to use the Certification Mark.
Certified Iyengar Yoga Teachers (CIYTs)
Becoming a Certified Iyengar Yoga Teacher (CIYT™) begins with long-term, dedicated practice. One is a student of Iyengar Yoga before becoming a teacher. For CIYTs, earning a Certification Mark demonstrates their commitment to maintaining the purity, excellence, and high standards of Iyengar Yoga.
CIYTs commit to teaching the method of yoga set forth by B.K.S. Iyengar without mixing in other styles or disciplines. They maintain a regular personal practice and continue their training with a mentor, or travel to the Iyengar institute in India. CIYTs adhere to the ethical guidelines set forth both by the B.K.S. Iyengar Yoga National Association of the United States (IYNAUS) and the Ramamani Iyengar Memorial Yoga Institute (RIMYI) in India.
IYNAUS assesses teachers of Iyengar Yoga in the United States, while RIMYI provides certificates. The assessment process that leads to certification has been designed and refined over many years under the guidance of B.K.S. Iyengar, Geeta Iyengar, Prashant Iyengar and Abhijata Iyengar.
In July 2020, RIMYI updated the guidelines for the assessment and certification of teachers. Please find the Certification and Assessment Guidelines here.