Join us for events hosted by IYNAUS featuring teachers from around the globe.
Explore Iyengar Yoga workshops. Choose from a wide variety of available offerings to fit your interest or skill level!
Visit the IYNAUS store for books, props from Pune, DVDs, and more to support you in your practice of Iyengar Yoga!
News
News about special events, talks and workshops. 
Membership
Join IYNAUS now and become a member of our rapidly growing community of practitioners and teachers.  
Donate
IYNAUS is a non-profit organization.  A donation of any size will help  fulfill our mission to promote the art, science and philosophy of yoga according to the teachings of B.K.S. Iyengar.
Get Involved
Volunteers are essential to IYNAUS.  Together we can continue to make the world a better place through Iyengar Yoga!
Diversity / Inclusion Posts
Our facilitated discussions and presentations offered throughout 2020-21 by the IYNAUS Yoga and Equity Committee, aim to help us understand race, equity and inclusivity as it relates to one's personal yoga practice and in the teaching of yoga.  As we continue our series, we will explore tangible action steps that you as practitioners, teachers, and leaders can take that are beyond issuing statements and hosting trainings, and that will demonstrate genuine commitment to advancing our work on and off the mat. Visit the events page for information about the IYNAUS diversity, equity, inclusion, and justice (DEIJ) workshops.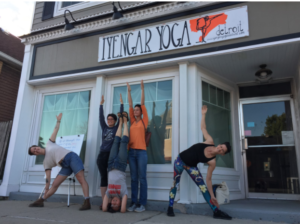 In this current moment, we are all being called upon to deepen our understanding of what it means to be a yoga practitioner.  Click here to read about our Community Builders in Detroit who are making a difference.