Home Practice for Beginners
"Yoga allows you to rediscover a sense of wholeness in your life, where you do not feel like you are constantly trying to fit broken pieces together."
—B.K.S. Iyengar, Light On Life
By attending classes with certified teachers of Iyengar Yoga (CIYT), you will learn asanas (poses), the correct alignment for the poses and begin to understand the importance and the principles of sequencing. For classes to be most effective, students are encouraged to develop their own home practice. This will allow you to fully experience the profound effects of the method. You will find that practice at home helps to absorb key principles and experience the transformative effects of yoga.  
Hints and Cautions for the Practice of Asanas
In his seminal text, Light on Yoga, B.K.S. Iyengar guides us in our home practice with suggestions. Below is an example of what you will find.  Please refer to Light on Yoga for the complete instructions. 
Asanas should preferably be done on an empty stomach.
The best time to practice is either early in the morning or late in the evening.
In the beginning, keep the eyes open.
During the practice of asanas, it is the body alone which should be active while the brain should remain passive, watchful and alert.
In all asanas, the breathing should be done through the nostrils only and not through the mouth.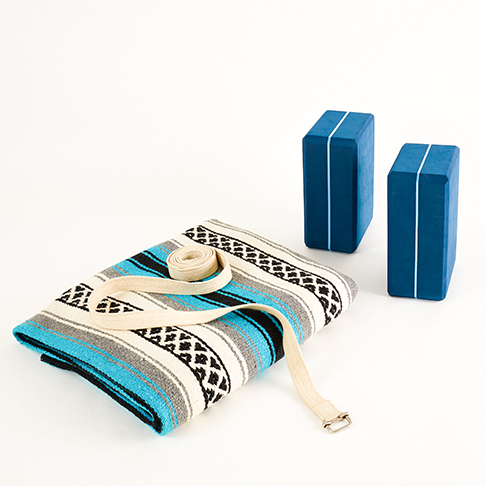 IYNAUS has compiled a sample sequence from the Basic Guidelines for Teachers of Yoga by B.K.S. Iyengar and Geeta S. Iyengar. This downloadable sequence illustrates what might be a home practice for beginners.
If a student has questions about practicing yoga at home, they are encouraged first to attend classes and seek advice from a certified Iyengar Yoga teacher.   
We invite you to visit the Research/Media page on this site for more videos about Iyengar Yoga and to browse our store for various books on the practice of Iyengar Yoga.
As with any physical activity, the practice of yoga involves the risk of injury. Poses suggested for home practice will not be appropriate for every student and every condition. All risk of injury is borne by the student and not IYNAUS, as IYNAUS cannot see or monitor anyone's home practice.