Iyengar Yoga welcomes all, regardless of age, body type, flexibility, or level of fitness. In an Iyengar Yoga class, you will learn the foundations of our approach and begin to experience the lifelong benefits of yoga.
Where Do I Start?
Iyengar Yoga offers a variety of classes for all levels. An introductory class is a great way to start if you are a beginner or have been away from yoga for some time. Classes are carefully sequenced with the beginning student in mind and help build stamina and strength while promoting a sense of calmness. If you're a more experienced practitioner, you might benefit from a Level 1 or a Level 2 class. Iyengar studios will have a listing of what the class levels mean.
We welcome you to visit our Home Practice for Beginners page for information about starting a home practice.
What Should I Expect in an Iyengar Yoga Class?
Students come from all backgrounds, ages, cultures, and capabilities. Certified Iyengar Yoga Teachers strive to address the students' needs in the class based on the competency required for their certification level. Beginning classes start with standing poses and seated poses, teaching the foundations of the practice. The class may feel challenging, but with dedication and practice the poses will start to come with ease. In a short while, you will find yourself feeling more flexible and stronger.
"Action is movement with intelligence. The world is filled with movement. What the world needs is more conscious movement, more action."
—B.K.S. Iyengar, Light On Yoga
Preparing for Your First Class

The Iyengar studio you choose will have a variety of props and may have mats. For purposes of hygiene, students should bring their own mats. Wear comfortable clothing. If you have an injury or are recovering from an injury or are pregnant, you should let your teacher know so that poses can be modified for your special situation. This is something with which Iyengar teachers have a great deal of experience!
Making Progress in Yoga
Progressing in any physical discipline comes gradually. Starting a new practice requires patience and dedication. Talk to your Iyengar Yoga teacher about how you feel about your progress. You'll find your teacher will have ideas and suggestions.
What Should I Look for in an Iyengar Teacher?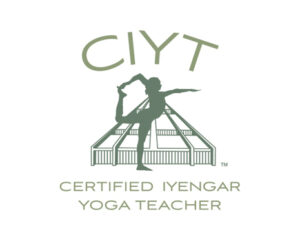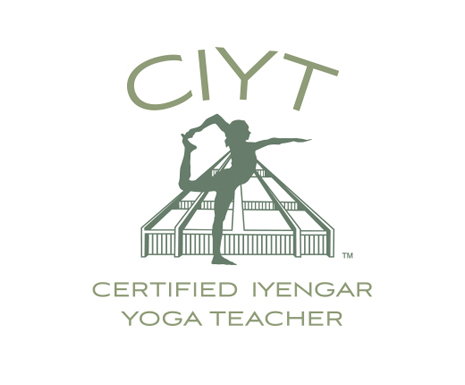 Becoming a Certified Iyengar Yoga Teacher (CIYT™) begins with long-term, thorough and dedicated practice. One is a student of Iyengar Yoga before becoming a teacher. Certified Iyengar yoga teachers (CIYT) undergo rigorous teacher trainings and are assessed to teach by a dedicated board of experienced senior Iyengar teachers. CIYTs maintain a regular personal practice and are required to complete continuing education hours each year to deepen their knowledge of Iyengar Yoga. CIYTs are certified in the Iyengar method at five different levels of skill. Look for this certification mark when choosing an Iyengar Yoga class.