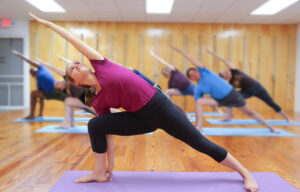 The structure and rules governing Iyengar Yoga certification and assessment are provided by RIMYI.
The IYNAUS Assessment Committee is tasked with conducting assessments for our members and implementing the RIMYI guidelines. Successful assessments involve many aspects, including training of assessors, exam writing, and venue coordination. While the IYNAUS Assessment Committee administers the assessment, RIMYI provides the certificates.
Candidates aspiring to assess should work closely with their mentor to understand the assessment process. The mentoring teacher is familiar with the process and can offer guidance and support as the aspiring candidate prepares for assessment.
Upon acceptance to a mentoring or teacher education program, prospective teachers must join IYNAUS. At the minimum, candidates for assessment must have been members of IYNAUS for at least one year before applying for assessment. For example, if applying for assessment in 2023, candidates must have been a member of IYNAUS by May 1, 2022.
The Assessment Committee is grateful for your careful attention to the assessment process. Candidates should read the following documents:
IYNAUS Assessment Manual

:

Published by the IYNAUS Assessment Committee,

this manual offers advice for teachers, aspiring teachers, and their mentors who

are developing the art of teaching Iyengar Yoga. Keen students of Iyengar Yoga

will find support for their practice by studying the syllabi from current and past assessment

 manuals reprinted here. For those considering undertaking the

assessment process, this manual also outlines the requirements for each level and

 an overview of the IYNAUS assessment process.
RIMYI Certification and Assessment Guidelines:  This primary source document provides the requirements to assess and teach each level of certification, the syllabi and required reading, and an outline of the assessment process as envisioned by RIMYI.

RIMYI FAQs: These FAQs provide additional information that should be read and understood.
Checklist for Assessment Candidates
Assessment Dates & Venues
Assessments are organized and staffed entirely by volunteers. Assessors, the Zoom coordinator, students, and others behind the scenes have volunteered time and effort for the weekend assessment. This whole process could not happen without them.
There will typically be three assessors serving during the assessment weekend. If any candidate is a student of one of the assessors, that assessor is allowed to judge that candidate.
Candidates accepted for assessment will receive an assigned date for their assessment. A typical assessment weekend is scheduled from Friday morning through Sunday afternoon.  Approximately seven weeks prior to the assigned weekend, candidates will receive the written exam.  They will have four weeks to complete the take-home exam.
The online assessments will begin Friday morning with a general informational meeting for candidates and assessors followed by a technical check with the Zoom coordinator. This is an opportunity for candidates to ask questions about the weekend or the technology.
The assessors and candidates will commence the assessment weekend with a group practice. This is an informal practice, a time for assessors and candidates to form preliminary impressions. Following this practice session, there will be time for discussion while having tea and a snack. On Friday afternoon, the demonstration component, including the Level 2 individual presentation and inversions practice will take place.
On Saturday and Sunday, the candidates will demonstrate their teaching skills with a group of appropriate-level students. Prior to the weekend, candidates will have received an assigned time for their teaching. Level 1 candidates will have 35 – 45 minutes to teach. Level 2 candidates will have 45 – 55 minutes to teach; the situation presentation will take place right after their teaching.
Once candidates have completed the teaching presentation, the assessment weekend is over for those candidates. Candidates will be sent feedback from the assessors and an invitation to fill out a web form where they are encouraged to give the Assessment Committee feedback regarding their assessment.