Putting Theory into Practice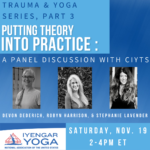 Please join the IYNAUS Continuing Education Committee for the third and final session in our series on trauma & yoga. This session, "Putting Theory into Practice," will be a moderated panel discussion and Q&A with CIYTs about teaching Iyengar Yoga in a trauma-informed manner: Devon Dederich, Robyn Harrison, and Stephanie Lavender. Marla Apt and Alixe Steinmetz will moderate the panel.
If you haven't seen the recording of the second event, "Trauma & the Embodied Self," with Dr. Bessel van der Kolk, the recording is still available.
Session 3: Putting Theory into Practice
Panel Discussion and Q&A with Certified Iyengar Yoga Instructors
Nov. 19, 2022, from 2 – 4 p.m. ET.
To learn more, visit the IYNAUS Events page.
Recording for this session will be available for 30 days after the class.