The Prop Lab: Path to Pleasantness with H.S. Arun
Dec 09, 2023—Dec 17, 2023
Location
IYNAUS Online
Cost $225 - Members, $295 - Non Members (Includes IYNAUS membership for 2024)
Event Contact Email
Categories IYNAUS
Topics Workshop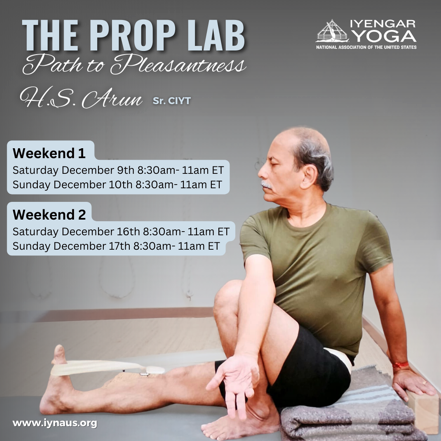 IYNAUS is hosting an online double weekend workshop with H.S. Arun. The workshop will be held on Dec. 9, 10, and 16, 17 from 8:30 to 11 a.m. ET. During the workshop, props will be used to find our way toward tranquility and contentment in asanas.
In this special double weekend workshop, senior Iyengar Yoga teacher H.S. Arun will guide you in discovering new ways to employ props in your practice. With over three decades of dedicated practice and teaching, Arun brings a unique approach to using props that enhances your practice and fosters a sense of ease and comfort even in challenging yoga asanas.
Check with your local Iyengar Yoga studio if you do not have props.
Prices:
$225 for members
$295 for non-members (Includes IYNAUS membership for 2024)


About H.S. Arun
Born in Sringeri, South India, in 1954, Sri H.S. Arun's journey in yoga began in Bangalore, where he embarked on his career at a Chartered Accountant firm. However, life took a turn as he developed severe asthma triggered by dust, particularly during the rainy season. For over three and a half decades, he has dedicated himself to practicing and teaching yoga, becoming a disciple of Guruji Yogacharya B.K.S. Iyengar in 1978. Arun and his wife have welcomed thousands of students at Prashant Yogashraya in Bangalore. His unique way of using the props inspires and creates ease in asanas.