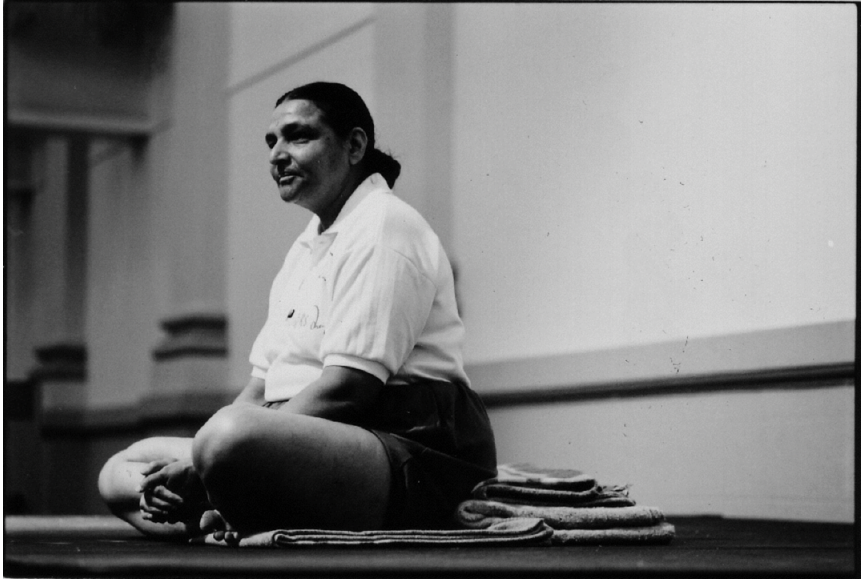 IYNAUS is proud to present the Canadian 2008 Yasodhara Intensive Saturday Matinee with Dr. Geeta S. Iyengar, our beloved teacher. The Saturday matinee viewings will be streamed this June, July, and August! It is an illuminating series of classes under her watchful guidance. Eddy Marks (CIYT, Level 4) and the producer of this intensive, will announce the first film and provide our viewers with the history behind this intensive. Chris Saudek (CIYT, Level 4) will announce the second matinee with remembrances of Geetaji and this intensive. Gretchen House (CIYT, Level 2) and IYNAUS Membership Chair will emcee the last class. There will be no registration for this event it is a member benefit. If you would like to become a member, please Join IYNAUS.
SATURDAY MATINEE STREAMING TIMES and DATES:
JUNE 12 – released at Noon CDT – Asana class with Geetaji
JULY 10 – released at Noon CDT – Asana class with Geetaji
AUG. 14 – released at Noon CDT – Pranayama class with Geetaji
Each class will be available for viewing in the Member Benefits Section until the day before the next class is released. The last class will be available until Sept. 10, 2021.
Purchase The Saturday Matinees on Vimeo On Demand.
IYNAUS ARCHIVE PROJECT
The IYNAUS Archives team is diligently working on a new initiative to safeguard our history by processing and curating the aging videos, photographs, and other ephemera, and digitizing the hardcopies in storage. Your donations will be used for the IYNAUS Archives Project to preserve these treasures of Guruji's lineage, his legacy, and our shared Iyengar Yoga journey. It is a huge and rewarding task that will not only serve as historic documentation but also be a source of joy for generations to come. Please support IYNAUS Archive Project by donating to the Archive Project Fund.