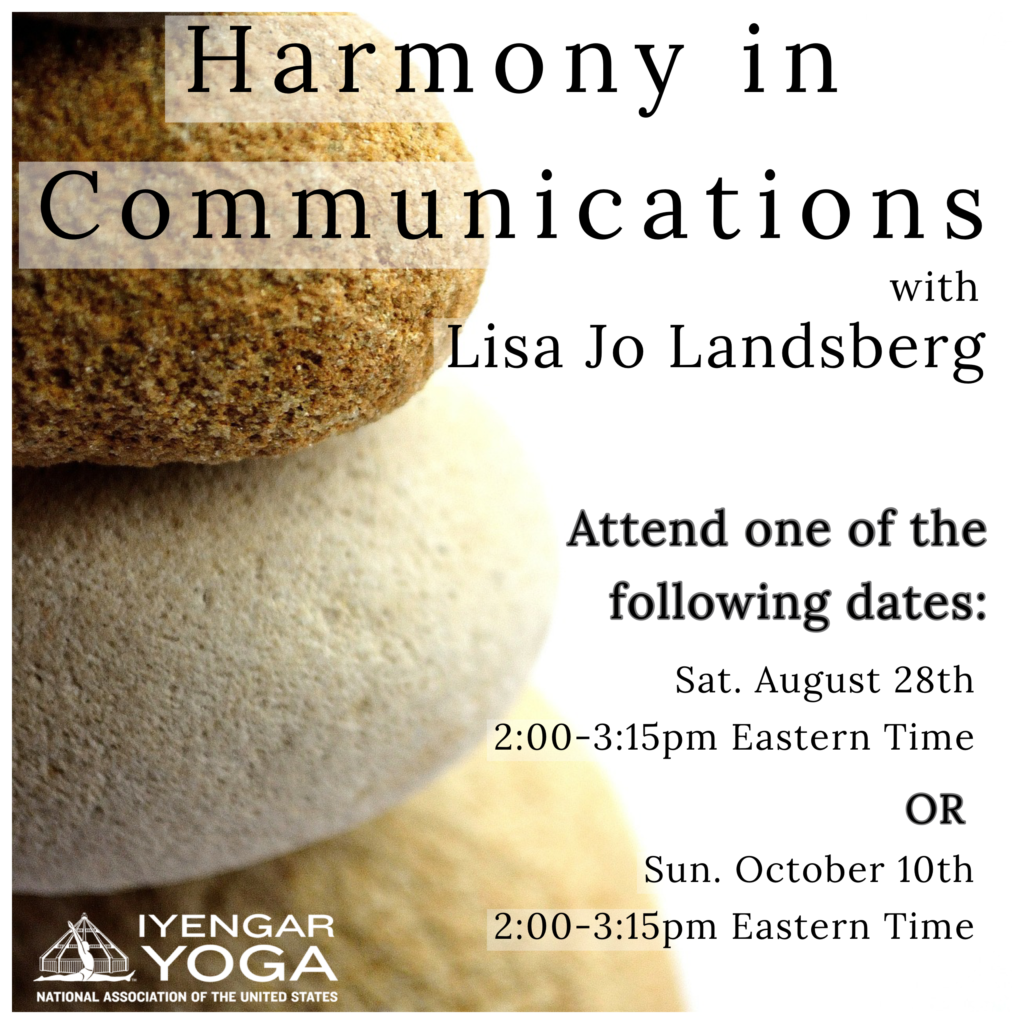 The IYNAUS team is excited to announce a special program, Harmony in Communications, with Lisa Jo Landsberg. You must be an IYNAUS member to attend this special member benefit.
Presenter: Lisa Jo Landsberg is a senior Certified Iyengar Instructor and serves on the IYNAUS Board and Executive Council. Simultaneous with her yoga life, Lisa Jo has worked for more than 30 years within global organizational cultures as a "future-of-work" activist to support Diversity, Equity, Inclusion, and Belonging (DEIB) initiatives and enable the democratization of work. As a facilitator and certified coach, Lisa Jo has extensive expertise in supporting conversations in various settings to ensure everyone has a voice that is heard and respected.
Who is this for?
Harmony in Communications is a special skill-building program developed for all IYNAUS members to provide tools to support reasonable conflict resolution. The goal is to improve overall communications with each other and our extended communities. This program requires a willingness to be accountable for our words and actions. We can learn to listen and let our words and actions reflect the yoga that we study.
Program aims:
Remember and review how to communicate (verbally and in writing) to inspire, encourage, and uplift.
Practice reinforcing positive ways to connect and effectively manage challenging communications.
Zoom links will be sent before each session. Recordings will be provided for a limited time to registered participants. IYNAUS CIYTs may count this session toward their annual continuing education requirements.
Note: Conflicts that involve bullying, intimidation, threats, or other forms of control and aggression will not be addressed in this session. The general recommendation is that these conflicts are to be reported to and managed by IYNAUS Ethics Committee.