Forging Connections: Lessons from the Second Tuesday Race forum of Denver
Oct 15, 2022 2:00PM—4:30PM
Location
IYNAUS Online
Cost No cost
Categories Diversity / Inclusion
Topics Symposium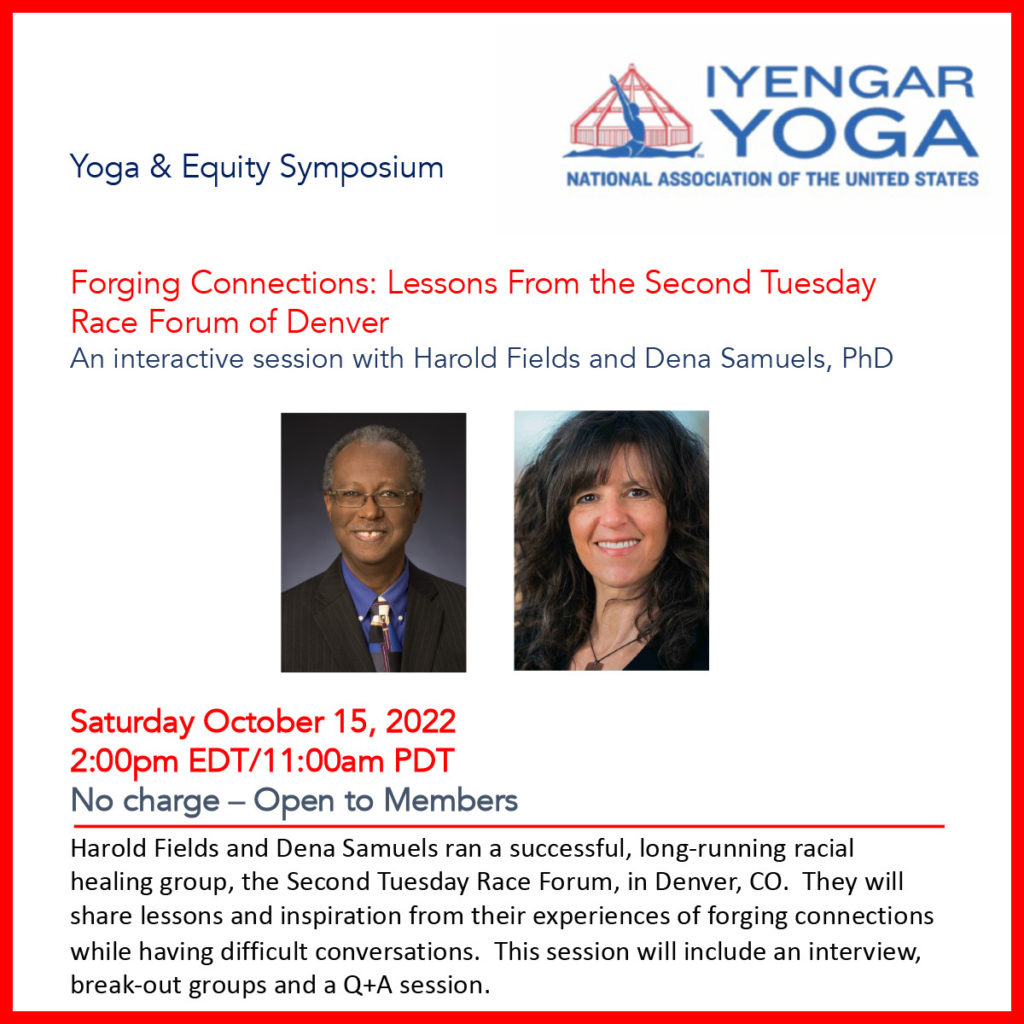 Join The IYNAUS Yoga & Equity Committee for the Symposium: Forging Connections: Lessons from the Second Tuesday Race forum of Denver
An interactive session with Harold Fields and Dena Samuels, PhD
Saturday, October 15, 2022, 2:00 – 4:30 pm EST
Yoga is often presented to beginners as physical postures. These physical postures are the gateway to the inward journey and begin the development of sensitivity and awareness in practitioners.
Similarly, anti-racism manifests as outward action while relying on an intentional way of being and develops sensitivity and awareness in practitioners. It brings practitioners closer to their inner selves and others.
During this event, we will hear from Harold Fields and Dena Samuels, who co-facilitated the Second Tuesday Race Forum in Denver. This racial healing discussion group ran for over two decades. They will share their experiences leading the group and lessons for individuals and organizations. The event will include an interview of the speakers, small break-out group discussions, and a Q+A session.
We hope you will be able to attend. Please register even if you can't make it so we know of your interest, and you receive the links to the recording and pre- and post-meeting materials.
We welcome your thoughts and suggestions by emailing equitychair@iynaus.org.
Sincerely,
Megan Bowles and Hector Martinez
More information on the speakers:
About Harold Fields:
Harold Fields is active in restorative justice and racial reconciliation projects in Denver and around the nation. He facilitated a citywide monthly racial dialogue that met continuously for 23 years, the Second Tuesday Race Forum. He was a founder of Multi-Racial Families of Colorado. He was the national training director for the documentary Traces of the Trade: A Story from the Deep North, about America's most prominent slave trade trading family. He was one of the founding board members of the national organization Coming to the Table, served on the Board Trustees for The Denver Foundation for six years, and is now the Denver Black Reparations Council chairperson. In 2017 he was honored by the Colorado ACLU with the Carle Whitehead Memorial Award for a lifetime of achievement in advancing civil rights and civil liberties.
Harold earned a degree in civil engineering from Oklahoma State University and spent over 30 years with IBM and the airline as a systems designer and programming manager. He played an integral role in developing spreadsheet technology, the first laser video disk, and hotel reservation systems. He was born and raised in Tulsa, Oklahoma, where his father was a survivor of the 1921 Tulsa Race Massacre and played an active role in rebuilding the Greenwood neighborhood.
About Dena Samuels, PhD:
Dena Samuels, PhD, serves as a mindfulness-based diversity, equity, and inclusion consultant, author, and leadership coach. As an award-winning tenured professor, Dr. Samuels taught at the University of Colorado – Colorado Springs for 20 years while consulting around the U.S. and beyond. She now consults and coaches full-time on mindful, inclusive leadership development and remains on faculty at the university. Her latest book, "The Mindfulness Effect: an unexpected path to healing, connection, and social justice," offers 25 mindfulness practices for health/wellness, self-empowerment, culturally inclusive leadership development, social justice, and environmental justice. She provides individual and group coaching to leadership teams to support them in living more fulfilling, connected, and meaningful lives; and assists organizations, campuses, and corporations in building more diverse, equitable, and inclusive cultures. Dr. Samuels' extensive client list includes over 150 organizations like NASA, PBS, and Big Brothers Big Sisters. As well as Fortune 50 Corporations like Facebook/WhatsApp and Humana; and campuses around the U.S. Recently, she was featured in the award-winning documentary on racism and bias, "How Does It Feel to Be a Problem?" (T. Keith; 2022). Her community activism focuses on facilitating cross-racial dialogue, and she served as co-facilitator of the Second Tuesday Race Forum of Denver.