Embodied Action – Confronting Racism as An Inner Practice
Jan 22, 2022 2:30PM—4:30PM
Location
IYNAUS Online
Cost Free
Categories Diversity / Inclusion
Topics Workshop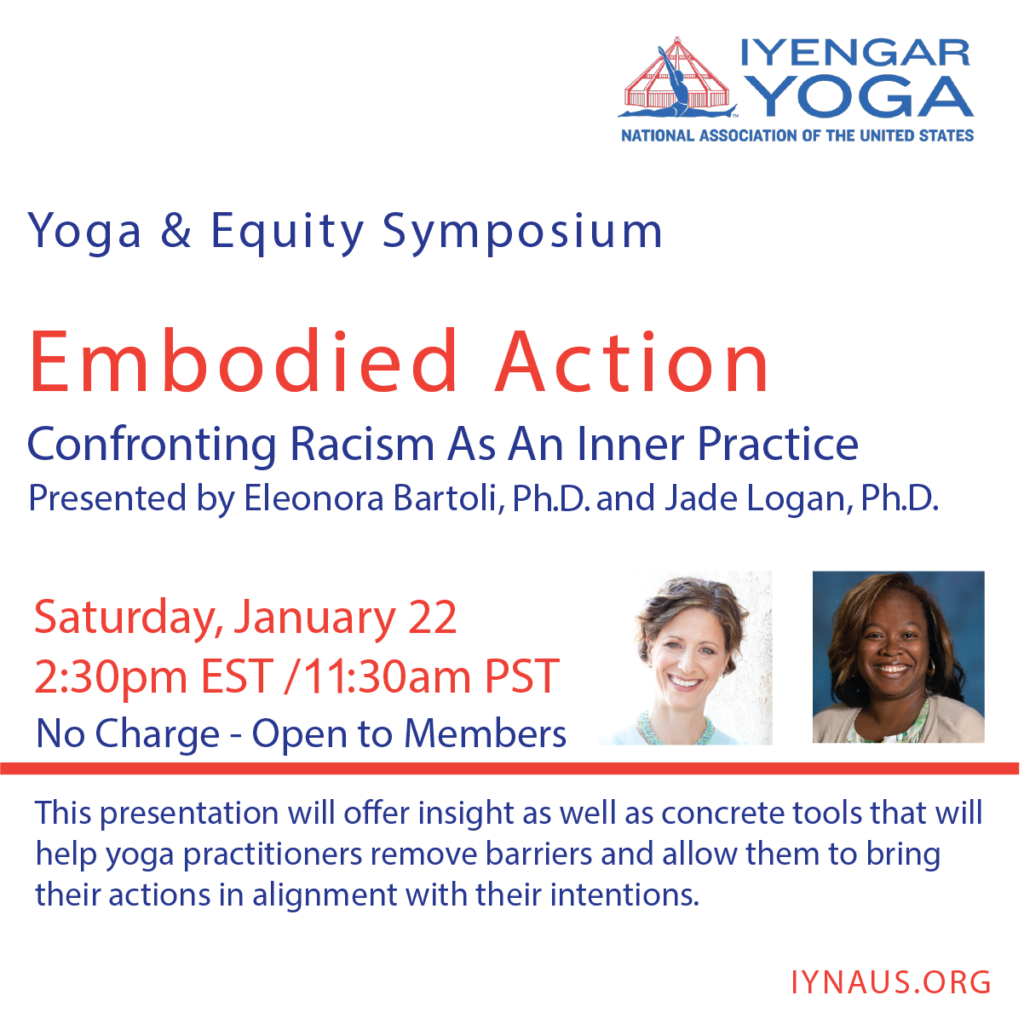 Yoga & Equity Symposium:
Embodied Action – Confronting Racism As An Inner Practice
Presented by Eleonora Bartoli, Ph.D. and Jade Logan, Ph.D.
Saturday, January 22, 2022, 2:30 pm EST.

Yoga is often presented to beginners as physical postures. These physical postures are the gateway to the inward journey and begin the development of sensitivity and awareness in practitioners.
Similarly, anti-racism manifests as outward action but relies on an intentional way of being and develops sensitivity and awareness in practitioners. It brings practitioners closer to their inner self and to others.
This presentation will offer insight as well as concrete tools that will help yoga practitioners remove barriers and allow them to bring their actions in alignment with their intentions. The presenters will describe how the skills needed to reach this expanded awareness will create opportunities for greater equity and inclusion within yoga communities.
About the Presenters:
About Eleonora Bartoli, Ph.D.:
Eleonora Bartoli, Ph.D., is a consultant and licensed psychologist, specializing in trauma, resilience-building, and multicultural/social justice counseling. She earned her Ph.D. in Psychology: Human Development/Mental Health Research from the University of Chicago in 2001. After receiving her clinical license in 2005, she opened a small independent practice, which she has held since. After 15 years in academia (12 of those years as the director of a Master's in counseling program), she became a full-time consultant. Her mission is to share the tools of counseling and psychology in support of social justice work.
Throughout her career, Dr. Bartoli has held leadership positions in professional organizations at both the state and national levels. She has also presented at numerous conferences and is the author of a number of publications focused on multicultural counseling competence, white racial socialization, and the integration of social justice principles in evidence-based counseling practices (please see her website, dreleonorabartoli.com, for details). Dr. Bartoli has been the recipient of academic awards, including the Lindback Foundation Award for Distinguished Teaching and the Provost Award for Outstanding Advising and Mentoring. The Gillem-Bartoli Alum Award for Contributions to Social Justice was established to honor hers and a colleague's contributions in their role as activist-scholars within academia. In all her work, Dr. Bartoli integrates an understanding of neuroscience, focusing on how it informs symptom development as well as healing and resilience-building strategies.
About Jade Logan, Ph.D.:
Dr. Logan is a licensed psychologist and board-certified in clinical psychology. Her clinical interests are in clinical training and supervision and the treatment of substance use disorders and trauma with an emphasis on rape and relationship violence. Dr. Logan has experience conducting individual and group psychotherapy with college populations and clinical supervision of doctoral trainees. Her research interests include the impact of multiculturally competent supervision and training on supervisee development and client care. Dr. Logan is a member of the American Psychological Association and the Pennsylvania Psychological Association (Multicultural Committee). She has also served as the co-chair of the Continuing Education Committee for the Commission on Counseling and Psychological Services (a division of the American College Personnel Association).