Bellur Yoga Center & Trust
B.K.S. Iyengar was born in the small rural village of Bellur in Southern India. He left as a teenager; however, the residents' poverty and ill health always weighed on his mind. In 1967, he financed the first-ever primary school in the community. In 2002, Mr. Iyengar learned that the school was in very poor condition, and the local children did not continue with education beyond the age of seven. In 2003, he set up the Bellur Krishnamachar & Seshamma Smaraka Niddhi Trust in memory of his parents to achieve health, educational and economic reform for the people of Bellur and to further the practice of yoga.
Bellur Yoga Center
The B.K.S. Iyengar Yoga Center was inaugurated in December 2015 to provide a welcoming and supportive environment for locals and visitors to experience high-quality yoga instruction as a group in a fully equipped center designed by B.K.S. Iyengar. The yoga hall has amazing natural light, cross ventilation, yoga wall ropes, and inspiring photographs of B.K.S. Iyengar. The 7,715-square foot hall can accommodate up to 300 yoga students. Dormitories for 40 students are conveniently situated near the hall and an outdoor cafeteria that provides delicious vegetarian meals in a beautiful setting overlooking the Kolar Hills.
The Iyengar family and highly experienced Certified Iyengar Yoga Teachers (CIYTs) from around the world teach special workshops at the center, providing additional study opportunities for those traveling to study at RIMYI in Pune and those unable to attend classes at RIMYI. For more information and a schedule of events, please visit here.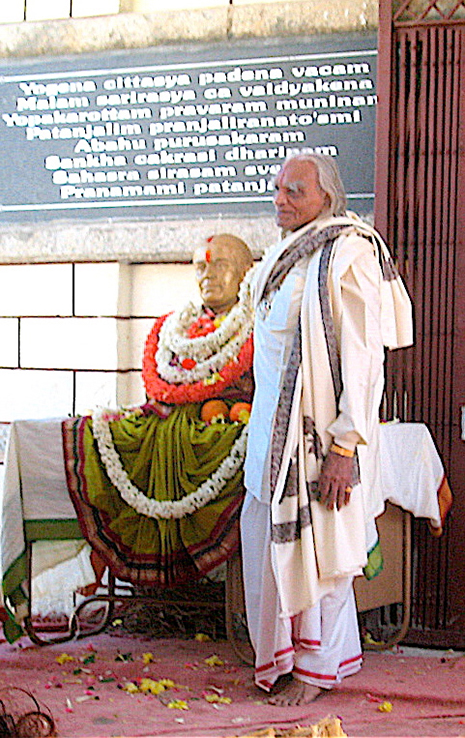 Bellur Trust
In 2004, the Bellur Trust erected a water tank to provide a clean water supply for the village. Following the completion of the initial project, other landmark accomplishments were achieved: a free hospital, water treatment facilities, free primary and high schools which supply uniforms and a hot meal, a college, India's first temple dedicated to Patanjali, and in 2015 the B.K.S. Iyengar Yoga Center with a practice hall, cafeteria, and dormitory for 40 practitioners.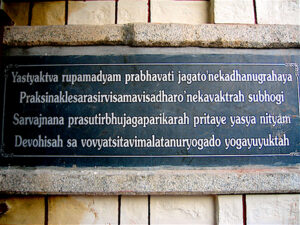 Mr. Iyengar requested that in lieu of gifts to him, his students could best express their gratitude for his teaching by supporting the transformation of Bellur. IYNAUS accepts individual donations to The Bellur Trust and transfers those funds in aggregate to simplify the process for donors and the Trust.
Donations may be made online or by check. Donations by check should be payable to IYNAUS with "Bellur Trust" noted on the memo line. All donations are tax-deductible. IYNAUS provides a tax receipt for each donation. Mail checks to: 
IYNAUS
770 Sycamore Avenue
Ste. 122-136
Vista, CA 92083 USA

For more information on The Bellur Trust, a virtual tour, and an event schedule for the new yoga center, please visit here.