Yoganushasanam 2022 – Virtual Attendance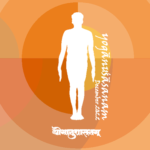 Dear Student,

After receiving an overwhelming response for online Yoganushasanam 2022 to be conducted by Abhijata Iyengar in Pune this December, here is an update for those who missed joining this event in Pune. Since many still wish to become a part of this event but cannot travel due to personal reasons, we would like to announce that the Institute has planned to stream these sessions live on zoom directly from the venue.

Fee: $150
Eligibility: 5 years of Iyengar Yoga experience

We understand that these sessions, which are held in the Indian Time Zone, will not be feasible for all of you to attend live. In such cases, to help you out, the recordings of the sessions will be made available within 12-24 hours after the live sessions are over.
Click here to view the live schedule for your reference
https://tinyurl.com/YGNSSchedule2022
This event's registration will begin on November 27th and close on December 5th.
Click here to register https://tinyurl.com/OnlineYGNS2022
(accessible November 27th at 12pm (IST) onwards).
We look forward to seeing you online.

Warm Regards,
RIMYI Pune