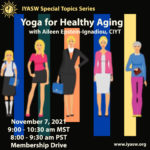 The Southwest Region presents the next class in the Special Topic Series: Yoga for Healthy Aging.
Join IYASW as Aileen Epstein-Ignadiou, CIYT from Las Vegas, NV, leads us through a practice to support us through the many stages of life.
Free for IYASW members, $15 for all others.
November 7, 2021, 9:00 am – 10:30 am MST 8:00 am – 9:30 am PST.
Registration is open.
https://app.acuityscheduling.com/schedule.php?owner=22488922&appointmentType=25954130
For more information, visit our IYNAUS Community Workshops page.