The Light, the new digital magazine — Member Benefit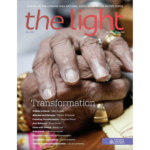 Welcome to The Light, the new digital magazine produced by the Iyengar Yoga National Association of the U.S. The Light provides engaging, educational, and helpful information to IYNAUS members to promote and disseminate yoga's art, science, and philosophy as taught by B.K.S. Iyengar, Dr. Geeta S. Iyengar, and Prashant S. Iyengar. In this issue, you will find various fascinating articles, including Susan Goulet's article about doing arm balances. We hope these articles deepen your understanding and your practice.
The Light is a member benefit and available for viewing in the Member Benefits Section. If you would like to become a member, please Join IYNAUS.