RIMYI – Celebrating Hanuman Jayanti 2022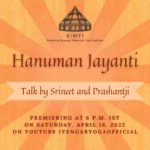 Dear Student,
The Institute will celebrate Hanuman Jayanti on Saturday, April 16th, 2022.
Talk by Srineet and Prashatnji
Premiering at 6:00 pm IST. Saturday, April 16th, 2022, on the Iyengar Yoga Official YouTube channel.
We wish to see you all!
Regards,
RIMYI, Pune
Please note that IYNAUS is not organizing or handling registration for this event. Please get in touch with RIMYI directly.