RIMYI 47th Annual Day – Talk by Sri Prashant Iyengar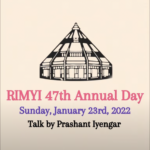 Dear Student,

On the occasion of RIMYI's 47th Annual Day, a talk by Sri Prashant Iyengar will be broadcast on our official YouTube channel' IyengarYoga Official' on Sunday, January 23rd, at 6:00 PM (IST).
Watch live on YouTube (IyengarYoga Official)

Warm wishes on the Annual Day of RIMYI!

Regards, RIMYI, Pune

This talk with Prashant Iyengar will be available to watch on the Official Iyengar Yoga YouTube channel. For any questions or concerns, please write support@rimyi.zendesk.com. Please note that IYNAUS is not organizing or handling registration for this event. Please get in touch with RIMYI directly.