Online Yoga Sessions by Raya Uma Dutta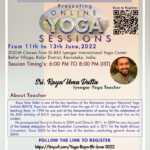 Dear All,
Greetings from Bellur!
We are happy to announce online yoga sessions by Raya Uma Dutta from June 11, 2022, to June 13, 2022, webcasting from Dr. BKS Iyengar International Yoga Center – Bellur.
Raya Uma Datta is one of the key teachers of the Ramamani Iyengar Memorial Yoga Institute (RIMYI). Raya has attended RIMYI since the age of 10. At the age of 20, he began teaching there. In 1998 he was part of the demonstration of asanas to celebrate the 80th birthday of B.K.S. Iyengar, and from that demonstration, Guruji took him as his student.
He accompanied Guruji to Russia in 2009 and China in 2011. In 2009 he was also part of the Geetaji delegation for the Australian Convention and in 2011 for the South African Convention. Since 2002 he has been one of the teachers conducting general classes at RIMYI.
June 11th – June 13th, 2022, from 6:00 pm to 8:00 pm (IST).
Students based outside of India can follow the registration link to fill out the application form.
Thanks & Regards,
Coordination Team
For more information, see B.K.S. Iyengar Yoga Center in Bellur, India – Upcoming Events, and for other workshops, see IYNAUS Community Workshops.
Please note that IYNAUS is not organizing or handling registration for this event. Please contact Bellur directly with questions.