Online Yoga Program by Sri Prashant S. Iyengar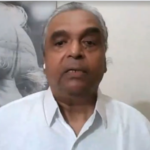 Dear All,
Greetings from Bellur!
We are very happy to announce an online yoga program by Sri Prashant S. Iyengar from Dec. 11–14, 2021, webcasting from B.K.S. Iyengar International Yoga Center – Bellur.
Subject: Tracing roots of Guruji's yoga in yoga sutra and classical texts.
Eligibility: Minimum 3 years of Iyengar Yoga practice.
We request you all to spread the message to all your students, friends, and associates to promote the event.
Thanks & regards,
For BKSSN Trust,
Coordination Team

Please note that IYNAUS is not organizing or handling registration for this event. Please contact Bellur directly with questions.