Online Yoga Classes – Bellur By Birjoo H Mehta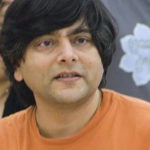 Dear All,
Greetings from Bellur!
We are very happy to announce a three-day online yoga session by Shri Birjoo H Mehta from July 22, 2022, to July 24, 2022, webcasting from Dr. B.K.S. Iyengar International Yoga Center – Bellur.
Birjoo H. Mehta is one of the very senior teachers of Iyengar Yoga from Mumbai, India. He is an adept & focused yoga trainer who learned yoga under the tutelage of Guruji B.K.S. Iyengar in 1974. Engineer by profession, he is a very senior teacher of Iyengar yoga at Ramamani Iyengar Memorial Yoga Institute, Pune, and is a trustee of Light on Yoga Research Trust, Mumbai.
He used to demonstrate Iyengar Yoga at the conventions and workshops attended by his Guru and traveled extensively with him during many tours to Europe, the United States, and Australia.
Guruji used Birjoo as a model to demonstrate poses and the finer points of practice. As well as being the guest leader for the 2013 Iyengar Yoga Teachers' Convention in San Diego, Birjoo has led national Iyengar Yoga conventions in the U.K., Spain, Germany, France, and South Africa and has conducted workshops in Israel, Ireland, Hong Kong, Canada, and the United States.
July 22 – July 24, 2022, from 4:30 pm to 6:30 pm (IST).
Students outside India can follow the registration link to fill out the application form.
Thanks & Regards,
Coordination Team
For more information, see B.K.S. Iyengar Yoga Center in Bellur, India – Upcoming Events, and for other workshops, see IYNAUS Community Workshops.
Please note that IYNAUS is not organizing or handling registration for this event. Please contact Bellur directly with questions.