"We Need to Breathe!" News from the New England region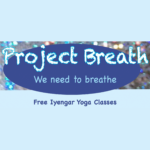 Project Breath, created by CIYT Lucilda Dassardo-Cooper (Iyengar Yoga Association of New England—IYANE), introduces Iyengar Yoga to communities of color in the greater Boston area. Project Breath's goal is to help communities of color overcome the barriers of cost, time, travel, and childcare, by offering weekly Iyengar Yoga classes at no charge. Project Breath organized classes with existing community groups as partners. In the future, Project Breath plans to explore apprenticeship and mentoring possibilities and support students who are interested in teacher training.
In addition to the Boston region, Project Breath is working to co-create classes with community organizations and health care partners in Rhode Island, Pennsylvania, and Jamaica. Project Breath is one step to create more diversity within the world of Iyengar Yoga. For more information about Project Breath, contact president@iyane.org.