IYNAUS Launches New Website!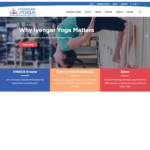 For the last 18 months, IYNAUS volunteers have been working diligently, redesigning your association website and updating our databases to ensure our organization can adapt successfully to the future of Iyengar Yoga.
We now offer members and CIYTs a fresh visual look with improved user-friendly navigation. The member and teacher database has been loaded into a new management platform that we feel will better support the association and our members for many years ahead.
The IYNAUS website features all the news and information for Iyengar Yoga in the U.S. and from RIMYI.  Explore the photo galleries found in the "What is Iyengar Yoga" pages, read the latest assessment information, and enjoy the ease of locating IYNAUS events and community workshops. We also have a brand new look for the IYNAUS Store and a built-in convention site for the 2023 convention coming soon!
The new website celebrates how our community has come together with contributions of photographs, content, and dedicated volunteer effort. We appreciate and recognize all the volunteers, committee members, and hard-working team members at Neon One who have helped bring this project to fruition.
As with our asana practice, the site will require a period of evolution and growth. We hope you share in our excitement, and we appreciate your patience.