Iyengar Yoga Association of the Midwest 2022 Retreat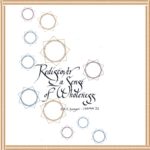 Rediscover a Sense of Wholeness
Friday, Sept 9 to Sunday, Sept 11
Loyola University Retreat and Ecology Campus Woodstock, Illinois
CIYTs – Jennie Williford and Kathleen Wright
Kirtankar – Debi Buzil
Yoga aims to still the fluctuations of our consciousness. The Yoga Sutras reveal to us several ways in which to approach this end. From these, we can consider experiencing the wholeness of yoga.
The Iyengar Yoga Association of the Midwest (IYAMW) invites you to join us for the return of our in-person retreat. Beginners and more experienced practitioners are encouraged to attend. This year, we will all practice together for inclusivity and community. Jennie and Kathleen will work together during each session to take students on a harmonizing journey through asana, attitude, breath, sensation, and sound.
Loyola University Chicago's Retreat and Ecology Campus has 98 acres of prairies, savannas, woodland, wetlands, and ponds. Its natural habitats are home to a wide range of species. The campus provides a serene setting, allowing individuals to connect with themselves and each other.
Register online: iyamw.org/events
Please see our workshop on the Community Workshop page for more information on the retreat, registration, and scholarships.