IYASW Special Topics Series — Pranayama: Cultivating Equanimity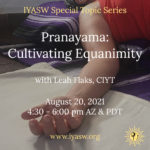 Join us as Albuquerque CIYT Leah Flaks leads us through a practice to help us cultivate equanimity through pranayama.
Free for IYASW members, $15 for all others.
August 20th, 4:30 pm – 6:00 pm AZ and PDT.
Registration is open.
For more information on the IYASW Special Topics Series and other workshops and retreats, visit our Community Workshops page.