Interlinked and Interwoven: An Online Iyengar Yoga Workshop with Brian Hogencamp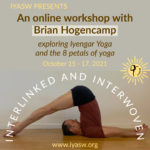 IYASW presents an online workshop with Brian Hogencamp exploring Iyengar Yoga and the 8 petals of yoga.
As the 8 petals of yoga are connected, this workshop will explore the "interconnectedness" of asana—threading actions in foundational asanas to more complex asanas.
The dates are October 15th – 17th, 2021, and you can Click here to register.
For more information and other workshops, see IYNAUS Community Workshops.