Embodied Action – Confronting Racism as An Inner Practice Presented by Eleonora Bartoli, Ph.D. and Jade Logan, Ph.D.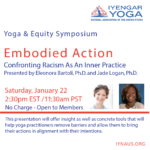 This presentation will offer insight as well as concrete tools that will help yoga practitioners remove barriers and allow them to bring their actions in alignment with their intentions. The presenters will describe how the skills needed to reach this expanded awareness will create opportunities for greater equity and inclusion within yoga communities.
No Charge – Open to all members. Saturday, January 22, 2022, 2:30 pm EST.
You can register on the IYNAUS Events page.