Bellur Residential Yoga program with Sri. Prashant Iyengar – May, 2023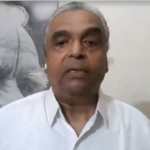 Dear All,
Seasonal Greetings from Bellur!
We are very happy to announce a 6-day residential Iyengar Yoga program by Sri Prashant S. Iyengar from May 15th to May 20th, 2023, at Bellur.
Please click the Registration link to apply for the event.
The details are as follows:
Dates: May. 15 – May. 20, 2023 (both days inclusive)
Venue: Dr. B.K.S. Iyengar International Yoga Center, Bellur, Kolar, Karnataka, India
Sri. Prashant S. Iyengar is the son of Yogacharya Dr. B.K.S. Iyengar and an authority in yoga. He is presently the director of Ramamani Iyengar Memorial Yoga Institute (RIMYI) Pune which won the first Prime Minister's Award for Outstanding Contribution for Promotion and Development of Yoga in 2017.
For more details regarding the 'Bellur Residential Yoga Program – May 2023',
go to B.K.S. Iyengar Yoga Center
For registration information, email our Bellur team at info@belluriyengaryogacenter.com.
Thank you.
Regards,
Ramamani Iyengar Memorial Yoga Institute
Please note that IYNAUS is not organizing or handling registration for this event. Please contact Rimyi directly with questions.