August Yoga Virtual Retreat with Jaki Nett – Morning and Afternoon Series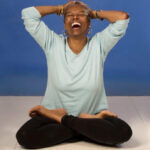 Please join the IYNAUS Yoga and Equity Committee to support and recognize Jaki Nett, Senior Level 3 Teacher, on August 13th -15th, 2021, for her Annual August Retreat.
Thank you, Jaki, for your years of dedication and commitment to Iyengar Yoga and for making our practice available worldwide.
For more information, visit Jaki's Weekly Live-Stream Classes on the Iyengar Yoga Napa Valley website.
For more information on Jaki Nett's August Yoga Virtual Retreat and other workshops and retreats, visit our Community Workshops page.