For the first time in our convention history, IYNAUS will offer a hybrid experience. Both in-person and live stream options offer two different yet equally exciting learning experiences. All registrants will receive a link to daily recordings. Links will remain active until May 30, 2023.
In-person: Early Bird $599 | Standard $699 | Late $750
The in-person experience offers the opportunity to feel the affirmation of Abhijata Iyengar's physical presence, to bask in the warmth of your fellow practitioners, and soak in the collective energy. 20 hours of live instruction, plus free time to explore the beautiful city of San Diego. Also included in registration:
1 Admission to Welcome Reception
Access to the In-person and Online Vendor Marketplace
Access to the 1-day Local Artisan Crafts Faire
1 Admission to the Closing Banquet
Additional Banquet tickets are $166/each
Early Bird pricing for in-person registration is valid until Feb. 28, 2023. Late pricing applies as of May 1, 2023.
Your Livestream registration allows the convenience and comfort of practicing in your home environment without any of the stresses of travel. It includes:
Real-time and/or recorded participation
Q&A option at the end of each session
Access to the Online Vendor Marketplace
Upgrade to in-person requires cancellation of online registration before registering for in-person attendance
Streamline your travel experience: leave your props at home and purchase the IYNAUS Convention 2023 (IC23) Commemorative items. Quantities are limited.
2023 Prop Kit - $180: The official convention kit comes in a sturdy cotton canvas bag and contains four Pune blankets, one cotton strap also from India, one wooden block, and one yoga mat, all with the convention logo.

The bag dimensions are 19" W x 14" H x 10" D.

The bag features a zipper closure, buckled exterior straps, zippered side pocket, and an internal pocket.

The Pine Tree Yoga wood block: 9" L x 5" W x 3" H solid alder, hand-rubbed with a food-grade oil

Y

oga mat.
Purchase your IC23 Prop Kit when you register to attend In-person for pickup on-site. Prop Kits are for in-person attendees only, not available for shipping.
Already registered and decided to purchase the commemorative Prop-Kit items after all?
Prop Kits will be available to purchase through the IYNAUS store for pickup at the event check-in.
Prop Kits purchased through the IYNAUS store will NOT be shipped and are subject to availability.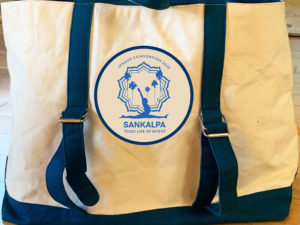 IC23 Commemorative T-Shirt – This IC23 Commemorative shirt features our colorful Sankalpa logo. The t-shirts are 50% polyester, 25% ringspun cotton, and 25% rayon fabric blend. This combination makes them amazingly soft. We will let you in on a little secret; they get even softer and more comfortable with every wash. They won't shrink or fade because of the low cotton content, but they will get a more luxurious feeling. Available in two classic colors with tee or tank options.

Men's T-Shirt, white or gray - $20.25
Men's Gray Tank Top - $15.84
Men's White Tank Top - $14.16
Women's T-Shirt, white or gray - $20.25
Women's Gray Tank Top, slim fit - $14.84
Women's Gray Tank Top, flowy - $22.64
Above prices DO NOT include Shipping & Handling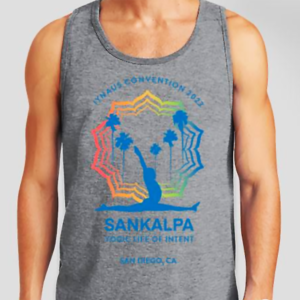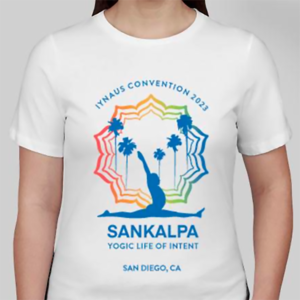 To order your IC23 Commemorative T-shirt: IC23 Commemorative T-Shirts.
Order your shirts by April 22, 2023, to be shipped to your home before the convention.