Sankalpa
A Yogic Life of Intent
IYNAUS Convention 2023
Commemorative Magazine
Your ad will reach our loyal and active market of yoga teachers and students. The IYNAUS Convention Committee will distribute more than 1,000 copies of the magazine to California Iyengar Yoga studios, local businesses, online attendees participating online, and convention attendees. Copies will be available for purchase through the IYNAUS online store.
As in the past, the magazine will become a keepsake and reference for Convention attendees and Iyengar yoga practitioners due to the quality of articles, interviews, and photos. Your organization is visible alongside the writings and images of the Iyengar family and U.S. teachers representing the best of teaching, philosophy, and outreach.
Commit early and big to get the most out of your advertising dollars.
The inside front cover, inside back cover, and back cover are the most sought-after "real estate" for the magazine. These will be in brilliant color on durable 60Ib matte.
Inside pages will be in B/W or color.
Early bird rates apply through January 31, 2023.
Regular prices apply from February 1, 2023, to the deadline of March 31, 2023.
Advertisers must submit the final Artwork to specifications (see below) at the time of payment. If you need help creating art for your ad, please see below for procedures and rates.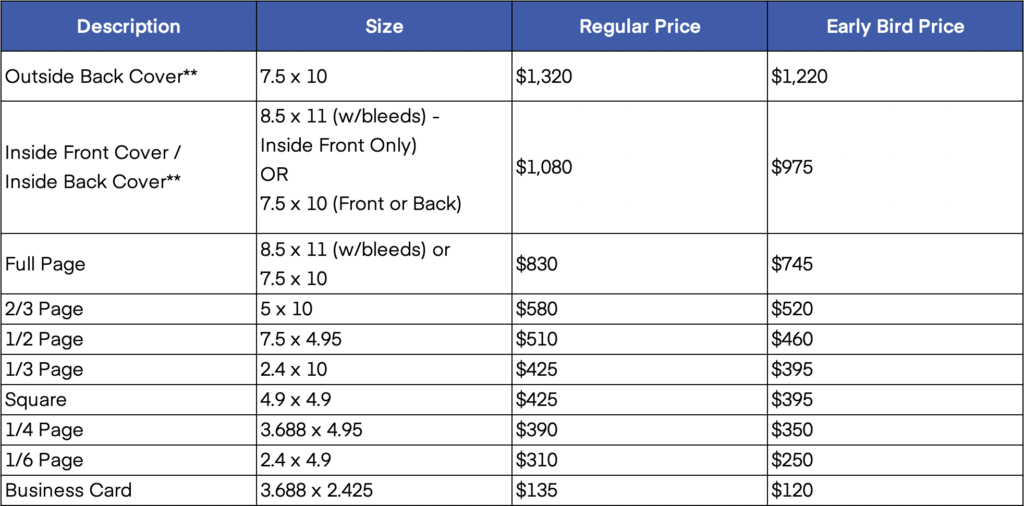 10% Surcharge for special position requests
** Preference will be given to Lotus and Corporate Sponsors
Need help designing your ad?

Please provide all materials together (logos, text, photos/images)

, including a deposit of $200.

Once the ad is complete, the balance of the design fee will be due, along with the fee for advertising space.

Fees cover one design per ad and one round of corrections. Additional designs and revisions will incur additional charges.

The final day to submit materials for print is 12/31/2022. We appreciate you submitting sooner rather than later to help things move along smoothly.
Prefer to design your ad?
Please design your ad with the following specifications
Resolution: 300 dpi
File format: PDF (We cannot accept formatted Microsoft Word Files as layout-ready art)
Crop marks: none
Color: CMYK (no RGB or spot color)
For full-page designs, trim is 7.875"× 10.5", saddle stitch. Leave 0.125" bleed on each side over the trim.
Vital matter for a single page: 7.125" × 9.75"
Please convert all types into objects before saving the pdf. In Photoshop, use the "Rasterize" command,
In Illustrator or InDesign, use the "Create Outlines" command.